Welcome!
Discovery Training
Learn how to INVESTIGATE what really makes someone who they are! UNCOVER interests and skills that lead to successful job development! PLAN a viable path to a better, more secure future! LEARN how SSA Work Incentives can be utilized to support employment!. This interactive, certificate-based training will provide participants, tools and information necessary to engage in the Discovery process - a billable service under both the Medicaid Waiver and ADRS! Read the Full Announcement (PDF) .
Dates and locations to register electronically: (Please only register at one site and the electronic registration link will provide location details)
February 23, 2021 Mobile
February 25, 2021 Decatur
March 2, 2021 Tuscaloosa
March 11, 2021 Montgomery
---
Customized-Employment Employment Training
April 14 - 16, 2021
This 3-day certificate-based training is for professionals and paraprofessionals that assist individuals in their quest to obtain competitive, integrated employment. The training will address components of customized/supported employment. Consultants from Virginia Commonwealth University are the lead presenters. Typical attendees work for supported employment agencies funded by either the Alabama Department of Mental Health or the Alabama Department of Rehabilitation Services, support coordination agencies, Project SEARCH programs, etc. The training requires no registration fee and those that have attended in the past should not register as space is limited. Read the Full Announcement (PDF)
Region I - Decatur/Huntsville
Region II - Tuscaloosa
Region III - Mobile
Region IV– Montgomery
Region V - Birmingham
---
Workshop on Provider Transformation
Tom Wilds and Genni Sasnett have provided the training materials from the 2 day workshop in Birmingham:. Visit the Resources page for the PowerPoints and supporting materials.
---
Alabama APSE Conference 2020/2021
ANNOUNCEMENT: 2020 ANNUAL CONFERENCE CANCELLED DUE TO COVID-19
Dear AL-APSE Friends: With great disappointment, we're writing to let you know that the 2020 Alabama APSE Conference, "Employment 2020 - The Vision is Clear" has been cancelled due to the COVID-19 pandemic. The Board is very disappointed by this turn of events. While we held off on cancelling as long as we could, we just weren't convinced that you'd be safe in a conference setting in July. Further, we didn't feel that we could safely host the social events that we typically include due to the need for social distancing and the need to utilize personal protective equipment. Our organization has held an annual conference since 1998. This is the first time in our history that we won't be holding the event, other than 2005 when we hosted the National APSE Conference. Read the Full Announcement (PDF)
---
AL-APSE The Independence Newsletter Spring 2019: Vol. 4, Issue 14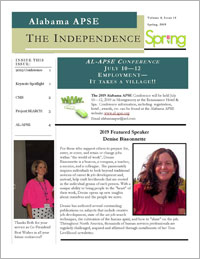 INSIDE THIS ISSUE: 2019 Conference | Keynote Spotlight | CMS | Project SEARCH | AL-APSE
AL-APSE Conference 2019, JULY 10 - 12, 2019
EMPLOYMENT - IT TAKES A VILLAGE!
2019 Featured Speaker Denise Bissonnette
For those who support others to prepare for, enter, re-enter, and retain or change jobs within "the world of work", Denise Bissonnette is a beacon, a compass, a teacher, a mentor, and a colleague. She passionately inspires individuals to look beyond traditional notions of career & job development and, instead, help craft livelihoods that are rooted in the individual genius of each person. With a unique ability to bring people to the "heart" of their work, Denise opens up new insights about ourselves and the people we serve.
Denise has authored several outstanding publications on subjects that include creative job development, state of the art job search techniques, the cultivation of the human spirit, and how to "shine" on the job. Throughout North America, thousands of human services professionals are regularly challenged, inspired and affirmed through installments of her True Livelihood newsletter.

Read the Spring Newsletter (PDF)
---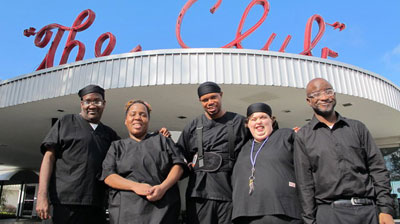 On the Job Training Program Gives Adults with Disabilities Competitive Skills, Passion for Work

Catherine Harris proudly shows off her freshly baked pastries in the kitchen of The Club before a catering event. "I love working here," she exclaims. "I learn more about baking a cake, cookies, and how to set-up for banquets. I love my new friends (coworkers)." Catherine is a trainee at The Club through the UCP of Greater Birmingham G.A.T.E. (Gaining Access to Employment) program, in partnership with Alabama Department of Rehabilitation Services, and Alabama Department of Mental Health. G.A.T.E. is a five-month long program that provides adults with disabilities an opportunity to gain hands-on work experience through strategic relationships with companies that have specific job needs. Read this article
---
Employment First, Real Jobs, Real Wages.

One in five people living in the United States have some type of disability. Alabama ranks near the bottom in competitive employment opportunities for people with significant disabilities. Employment First is a declaration of both philosophy and policy, stating that employment is the first priority and preferred outcome of people with disabilities.
---
State Employment Leadership Network
SELN Findings and Observations Report – Alabama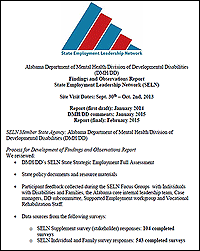 Alabama Department of Mental Health/Division of Developmental Disabilities (DMH/DD)
Site Visit Dates: Sept. 30th – Oct. 2nd, 2013
Report (first draft): January 2014
DMH/DD comments: January 2015
Report (final): February 2015
SELN Member State Agency: Alabama Department of Mental Health/Division of Developmental Disabilities (DMH/DD)
SELN Findings and Observations Final Report – Alabama (PDF)