Welcome!
---
AL-APSE 2017 Conference - Celebrate Independence! Employment First! Employment Now!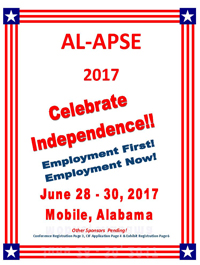 June 28 - 30, 2017 Mobile, AL
Location: Renaissance Riverview Plaza Hotel | 64 South Water Street | Mobile, AL 36602

Download the Registration Form (PDF)
Register Online: http://tinyurl.com/zn7ly7a
Email questions to: alabamaapse@aol.com
Exhibit/Sponsorship Registration: http://tinyurl.com/gun83rc

**CALL FOR PRESENTATION ABSTRACT - Deadline March 31st, 2017
AL-APSE welcomes your proposal for a concurrent session on a current and relevant topic that will be of interest to professionals working in the disability field, individuals with disabilities, parents, SE personnel, program administrators, and rehabilitation personnel. Email completed abstract to Beth Hanks at beth.hanks@rehab.alabama.gov no later than March 31st, 2017 (notify by April 30th)
Presentation Abstract Form
2017 ALABAMA APSE AWARDS Nomination

Alabama APSE will host their annual awards recognition ceremony on June 29, 2017. This is an opportunity to recognize an individual, organization, employer, professional, etc. that is committed to competitive employment for people with disabilities.
Deadline to submit nominations is May 15.
Award Categories and Descriptions | Nomination Form (Word | PDF)
2017 AL-APSE Dine Barclay Scholarship
This scholarship is awarded annually to a self-advocate or their family member to attend the National APSE conference. Applicants should complete this application and return to: Byron White, DMH, 100 North Union Street, Suite 486, Montgomery, AL 36130, 334-353-7713. You can also email the information to byron.white@mh.alabama.gov DEADLINE: April 30, 2017 Conference to be held in Portland, Oregon June 20 – 22, 2017 [Download Application]
---
Certificate-Based Job Coach Customized Employment Training - April 17-19, 2017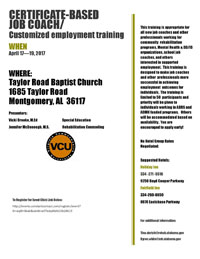 Where: Taylor Road Baptist Church 1685 Taylor Road Montgomery, AL 36117
Presenters: Vicki Brooke, M.Ed & Jennifer McDonough, M.S., VCU
This training is designed to make job coaches and other professionals more successful in achieving employment outcomes for individuals. Limited to 50 participants. Priority given to individuals working in ADRS and ADMH funded programs. Others accommodated based on availability. You are encouraged to apply early! Download Flyer
Register online: http://tinyurl.com/zu69to3
---
AL-APSE Regional Training - April 7, 2017

Time: 10:00 AM - 12:00 PM
Where: AIDT, One Technology Court, Montgomery, Alabama
Presented By: Corporal Jess Thornton, Alabama Law Enforcement
Officer Thornton will share information about how to defend yourself in an active shooter situation at your workplace, and in your community. [Download Flyer]
Register online: http://tinyurl.com/jkqtrr3
---
2017 Chuck Sheehan Scholarship
The Sheehan Scholarship will be awarded each year to an individual with a disability seeking higher learning. The award criteria are listed below: The recipient must be enrolled in an accredited program. The recipient must have a disability. The recipient must provide proof of registration in the training program. This is a one-year scholarship in the amount of $1500.00. DEADLINE for APPLICATION is May 1st! [Download Application]

---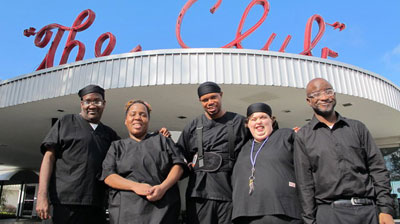 On the Job Training Program Gives Adults with Disabilities Competitive Skills, Passion for Work

Catherine Harris proudly shows off her freshly baked pastries in the kitchen of The Club before a catering event. "I love working here," she exclaims. "I learn more about baking a cake, cookies, and how to set-up for banquets. I love my new friends (coworkers)." Catherine is a trainee at The Club through the UCP of Greater Birmingham G.A.T.E. (Gaining Access to Employment) program, in partnership with Alabama Department of Rehabilitation Services, and Alabama Department of Mental Health. G.A.T.E. is a five-month long program that provides adults with disabilities an opportunity to gain hands-on work experience through strategic relationships with companies that have specific job needs. Read this article
---
Employment First, Real Jobs, Real Wages.

One in five people living in the United States have some type of disability. Alabama ranks near the bottom in competitive employment opportunities for people with significant disabilities. Employment First is a declaration of both philosophy and policy, stating that employment is the first priority and preferred outcome of people with disabilities.
---
State Employment Leadership Network
SELN Findings and Observations Report – Alabama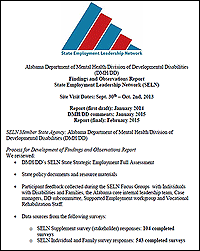 Alabama Department of Mental Health/Division of Developmental Disabilities (DMH/DD)
Site Visit Dates: Sept. 30th – Oct. 2nd, 2013
Report (first draft): January 2014
DMH/DD comments: January 2015
Report (final): February 2015
SELN Member State Agency: Alabama Department of Mental Health/Division of Developmental Disabilities (DMH/DD)
SELN Findings and Observations Final Report – Alabama (PDF)