Welcome!
AL-APSE 2017 Conference Handouts
To access handouts from 2017 AL-APSE & ACDD conference, click on the following link, https://al-apse.org/2017_conference.html
---
3-Day Certificate-Based Job Coach / Supported Employment Customized Employment Training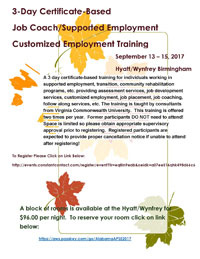 September 13 – 15, 2017
Hyatt/Wynfrey Birmingham
A 3 day certificate-based training for individuals working in supported employment, transition, community rehabilitation programs, etc. providing assessment services, job development services, customized employment, job placement, job coaching, follow along services, etc.
The training is taught by consultants from Virginia Commonwealth University. This training is offered two times per year. Former participants DO NOT need to attend! Space is limited so please obtain appropriate supervisory approval prior to registering.
Registered participants are expected to provide proper cancellation notice if unable to attend after registering! [Print Training Flyer - PDF]
To Register Please Click on Link below:
http://events.constantcontact.com/register/event?llr=eq8in9eab&oeidk=a07ee516qhk498d66c6
A block of rooms is available at the Hyatt/Wynfrey for $96.00 per night. To reserve your room click on link below:
https://aws.passkey.com/go/AlabamaAPSE2017
---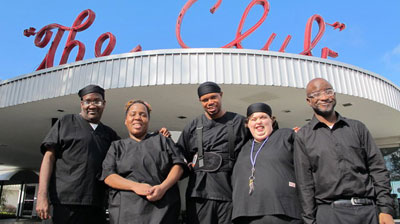 On the Job Training Program Gives Adults with Disabilities Competitive Skills, Passion for Work

Catherine Harris proudly shows off her freshly baked pastries in the kitchen of The Club before a catering event. "I love working here," she exclaims. "I learn more about baking a cake, cookies, and how to set-up for banquets. I love my new friends (coworkers)." Catherine is a trainee at The Club through the UCP of Greater Birmingham G.A.T.E. (Gaining Access to Employment) program, in partnership with Alabama Department of Rehabilitation Services, and Alabama Department of Mental Health. G.A.T.E. is a five-month long program that provides adults with disabilities an opportunity to gain hands-on work experience through strategic relationships with companies that have specific job needs. Read this article
---
Employment First, Real Jobs, Real Wages.

One in five people living in the United States have some type of disability. Alabama ranks near the bottom in competitive employment opportunities for people with significant disabilities. Employment First is a declaration of both philosophy and policy, stating that employment is the first priority and preferred outcome of people with disabilities.
---
State Employment Leadership Network
SELN Findings and Observations Report – Alabama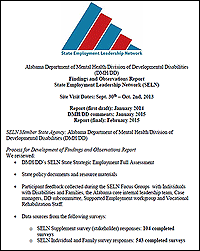 Alabama Department of Mental Health/Division of Developmental Disabilities (DMH/DD)
Site Visit Dates: Sept. 30th – Oct. 2nd, 2013
Report (first draft): January 2014
DMH/DD comments: January 2015
Report (final): February 2015
SELN Member State Agency: Alabama Department of Mental Health/Division of Developmental Disabilities (DMH/DD)
SELN Findings and Observations Final Report – Alabama (PDF)