Welcome!
AL-APSE 2023 Conference June 28 - 30. Register Here!
Celebrating Inclusion, Freedom, and Independence! Full Registration Flyer
Check back www.al-apse.org for conference updates and session information as course content is updated!
Course Content & Exhibit Registration Flyer
ALAPSE 2023 Course Content (Word | PDF)
2023 ALPSE Exhibit Registration Flyer (PDF)
AL-APSE Save The Date
Renaissance Hotel & Spa - At the Convention Center Montgomery June 28-30. Updates will be posted at www.al-apse.org For Hotel Reservations Click Link Below:
https://www.marriott.com/event-reservations/reservation-link.mi?id=1670531298336&key=GRP&app=resvlinked
2023 AL APSE Conference Request for Presenters (PDF)
2023 ALAPSE Awards Packet (PDF)
Scholarship Opportunities
Barclay to attend the National APSE conference - This scholarship is awarded annually to a self-advocate or their family member to attend the National APSE conference. DEADLINE: April 15, 2023. Applicants should complete the form (PDF)
Sheehan $1,500.00 to pursue higher learning - The Sheehan Scholarship is awarded annually to an individual with a disability that is pursuing higher learning. These funds are available in the amount of $1,500 to be used to help with costs associated with post-secondary training. Please complete the following application and return by May 15, 2023. (PDF)
Discovery Training
Learn how to INVESTIGATE what really makes someone who they are! UNCOVER interests and skills that lead to successful job development! PLAN a viable path to a better, more secure future! LEARN how SSA Work Incentives can be utilized to support employment! This interactive, certificate-based training will provide participants, tools and information necessary to engage in the Discovery process - a billable service under both the Medicaid Waiver and ADRS! Dates and locations to register electronically:
February 7, 2023; Mobile Goodwill of the Gulf Coast 2440 Gordon Smith Drive, Mobile Al 36617
February 28, 2023 Decatur Turner-Surles Community Resource Center 702 Sycamore St NW Decatur, AL 35601
March 14, 2023 Birmingham ADRS-Lakeshore 201 London Parkway Suite 450 Birmingham, AL 35211
To register your attendance, please click on link below. Make sure to check the date and location that you will attend! (PDF Flyer)
To register your attendance please click on registration link below: :
http://events.constantcontact.com/register/event?llr=eq8in9eab&oeidk=a07ejijoe0n990905b5
Customized-Supported Employment Training
March 15-17, 2023 - This 3-day certificate-based training is for professionals and paraprofessionals that assist individuals in their quest to obtain competitive, integrated employment. The training will address all components of customized/supported employment. Consultants from Virginia Commonwealth University are the lead presenters. Typical attendees work for supported employment agencies funded by either the Alabama Department of Mental Health or the Alabama Department of Rehabilitation Services, support coordination agencies, Project SEARCH programs, etc. The training requires no registration fee and those that have attended in the past should not register as space is limited. The training will be held at AIDT George Howard Training Center 15 Technology Court, Montgomery, AL 36116 Training times: 3/15 (9:00 - 4:30), 3/16 (8:30 - 4:30) & 3/17 8:30 - Noon) (PDF Flyer):
To register your attendance please click on registration link below: http://events.constantcontact.com/register/event?llr=eq8in9eab&oeidk=a07ejijoe25d44b7381
If you need additional information about this training, please contact:
Byron.White@mh.alabama.gov at (334) 353-7713 or Courtney.Dotson@rehab.alabama.gov at (334) 293-7257
---
Workshop on Provider Transformation
Tom Wilds and Genni Sasnett have provided the training materials from the 2 day workshop in Birmingham:. Visit the Resources page for the PowerPoints and supporting materials.
---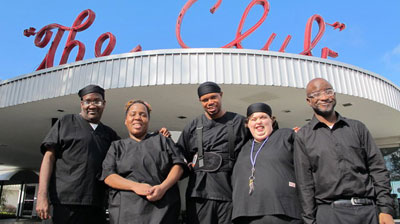 On the Job Training Program Gives Adults with Disabilities Competitive Skills, Passion for Work

Catherine Harris proudly shows off her freshly baked pastries in the kitchen of The Club before a catering event. "I love working here," she exclaims. "I learn more about baking a cake, cookies, and how to set-up for banquets. I love my new friends (coworkers)." Catherine is a trainee at The Club through the UCP of Greater Birmingham G.A.T.E. (Gaining Access to Employment) program, in partnership with Alabama Department of Rehabilitation Services, and Alabama Department of Mental Health. G.A.T.E. is a five-month long program that provides adults with disabilities an opportunity to gain hands-on work experience through strategic relationships with companies that have specific job needs. Read this article
---
Employment First, Real Jobs, Real Wages.

One in five people living in the United States have some type of disability. Alabama ranks near the bottom in competitive employment opportunities for people with significant disabilities. Employment First is a declaration of both philosophy and policy, stating that employment is the first priority and preferred outcome of people with disabilities.
---
State Employment Leadership Network
SELN Findings and Observations Report – Alabama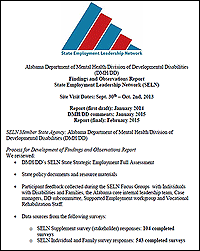 Alabama Department of Mental Health/Division of Developmental Disabilities (DMH/DD)
Site Visit Dates: Sept. 30th – Oct. 2nd, 2013
Report (first draft): January 2014
DMH/DD comments: January 2015
Report (final): February 2015
SELN Member State Agency: Alabama Department of Mental Health/Division of Developmental Disabilities (DMH/DD)
SELN Findings and Observations Final Report – Alabama (PDF)