Welcome!
Save the Date! AL-APSE 2019 Conference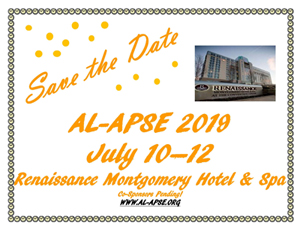 Dates: July 10-12
Location:Renaissance Montgomery Hotel & Spa
Co-Sponsors Pending!
Print Announcement Flyer (PDF)
---
AL-APSE The Independence Newsletter Winter 2018: Volume 4, Issue 11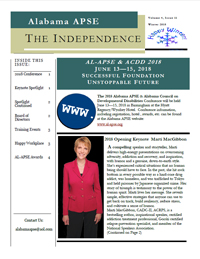 INSIDE THIS ISSUE: 2018 Conference | Keynote Spotlight | Board of Directors | Training Events | Happy Workplace | AL-APSE Awards
AL-APSE & ACDD 2018, JUNE 13 -15, 2018
SUCCESSFUL FOUNDATION UNSTOPPABLE FUTURE
The 2018 Alabama APSE & Alabama Council on Developmental Disabilities Conference will be held June 13-15, 2018 in Birmingham at the Hyatt Regency/Wynfrey Hotel.
2018 Opening Keynote Marti MacGibbon
A compelling speaker and storyteller, Marti delivers high-energy presentations on overcoming adversity, addiction and recovery, and inspiration, with humor and a genuine, down-to-earth style. She's experienced critical situations that no human being should have to face.In the past, she hit rock addict, was homeless, and was trafficked to Tokyo and held prisoner by Japanese organized crime. Her story of triumph is testimony to the power of the human spirit. Read the Fall Newsletter (PDF)
---
2018 AL-APSE & ACDD Conference (June 2018)
AL-APSE & ACDD 2018 Conference Handouts/PowerPoints Available
---
Pre-Vocational Services in the 21st Century
Decatur Training Handout Available:
PowerPoint File
---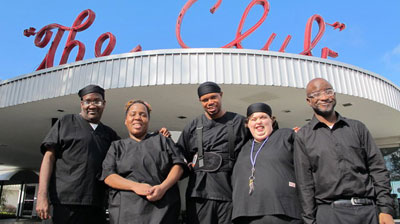 On the Job Training Program Gives Adults with Disabilities Competitive Skills, Passion for Work

Catherine Harris proudly shows off her freshly baked pastries in the kitchen of The Club before a catering event. "I love working here," she exclaims. "I learn more about baking a cake, cookies, and how to set-up for banquets. I love my new friends (coworkers)." Catherine is a trainee at The Club through the UCP of Greater Birmingham G.A.T.E. (Gaining Access to Employment) program, in partnership with Alabama Department of Rehabilitation Services, and Alabama Department of Mental Health. G.A.T.E. is a five-month long program that provides adults with disabilities an opportunity to gain hands-on work experience through strategic relationships with companies that have specific job needs. Read this article
---
Employment First, Real Jobs, Real Wages.

One in five people living in the United States have some type of disability. Alabama ranks near the bottom in competitive employment opportunities for people with significant disabilities. Employment First is a declaration of both philosophy and policy, stating that employment is the first priority and preferred outcome of people with disabilities.
---
State Employment Leadership Network
SELN Findings and Observations Report – Alabama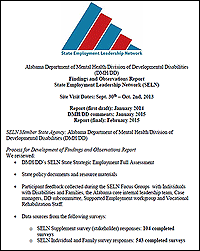 Alabama Department of Mental Health/Division of Developmental Disabilities (DMH/DD)
Site Visit Dates: Sept. 30th – Oct. 2nd, 2013
Report (first draft): January 2014
DMH/DD comments: January 2015
Report (final): February 2015
SELN Member State Agency: Alabama Department of Mental Health/Division of Developmental Disabilities (DMH/DD)
SELN Findings and Observations Final Report – Alabama (PDF)